Summer.Vacation.1999.(Shusuke.Kaneko,.1988).DVDRip.avi [699.13 Mb]
Summer.Vacation.1999.(Shusuke.Kaneko,.1988).DVDRip.English.srt [40.6 Kb]
Summer.Vacation.1999.(Shusuke.Kaneko,.1988).DVDRip.Chinese(big5).srt [35.6 Kb]
Thomas.Heart.(Hagio.Moto,.1973).[scan].rar [96.02 Mb]
Rosemary.Iwamura.-.Letter.from.Japan.-.From.Girls.Who.Dress.Up.Like.Boys.To.Truss...nese.Screen.html [57.5 Kb]
Here is a little gender deconstruction curio with a uniquely Japanese flavor. This movie is based on a
shonen-ai manga
(a graphic novel centered on male adolescent homoeroticism typically drawn by middle-aged women and targeted at the teenage girl audience, and reflecting predominantly feminine sensibilities), with all the "boys" being performed by girls. The whole thing is directed in the style of hyper-sensitive adolescent melodrama, with eye-candy photography, mellow-but-tasteful piano soundtrack, and bizarre retro-futuristic electric appliance design. What to take out of it is very much up to you. Judging from the imdb comments, some are moved, some are amused, some are indifferent... English subtitles co-authored by no less than Donald Richie...
As a bonus, you get
Thomas' Heart
, the original graphic novel upon which the movie is based, as well as an article by Rosemary Iwamura deliciously entitled
Letter from Japan: From Girls Who Dress Up Like Boys To Trussed-up Porn Stars - Some of the Contemporary Heroines on the Japanese Screen
, which gives, among other things, some particulars about the movie...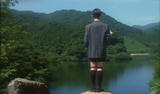 Summer Vacation: 1999, aka 1999 - Nen No Natsu Yasumi
1989-Japan-Childhood Drama/Coming-of-Age

This poetic independent Japanese drama uses girls to play the young teenaged boys in the story, reminiscent of a traditional dramatic custom known as Takurazuka. The story concerns three friends who have remained at their boarding school over the summer break in order to further their studies independently. One boy is missing from the group, having recently committed suicide. A complicating factor in their interactions is that each one has a romantic crush on one of the others. Indeed, their passions for one another are so intense that the missing boy's suicide can be attributed to his unrequired love for one of them. When a new boy arrives on the scene bearing an uncanny resemblance to the dead boy, the three are not sure whether they are dealing with an elaborate joke, a spirit, or some other strange karmic destiny. ~ Clarke Fountain, All Movie Guide
Código: Seleccionar todo

Runtime ............ 89mins Frame Rate ...... 23.976fps
Video Format ......... XviD Audio Language ... Japanese
Video Resolution .. 656x384 Audio Format .......... mp3
Video Bitrate ..... 962kbps Audio Bitrate ..... 121kbps
Source................. DVD Subtitles ........... EN/CN